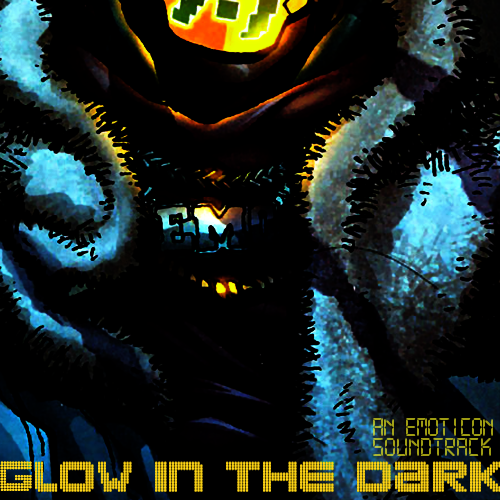 Click below the cut for the following:
-the full sized covers (back and front)
-the download link (all in 1 .zip file)
-some lyrics from each song and why I chose them.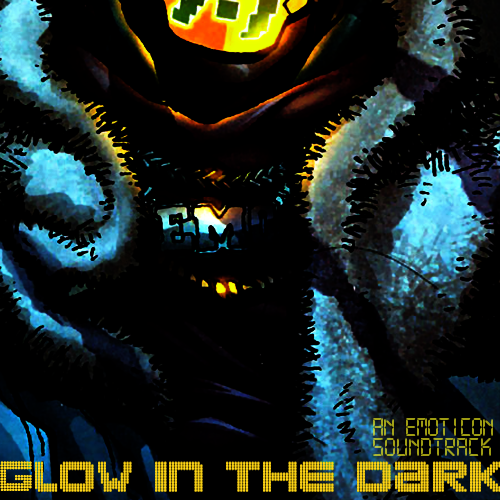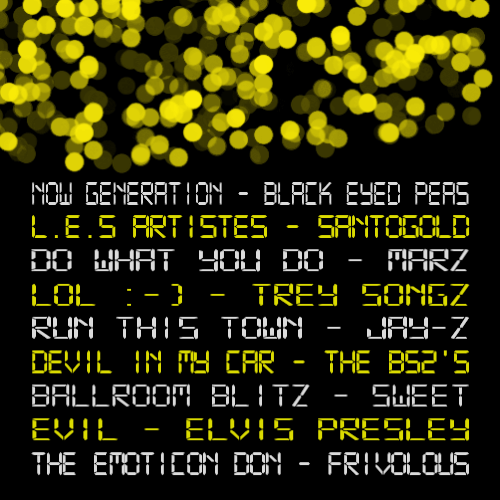 GLOW IN THE DARK
AN EMOTICON SOUNDTRACK FOR DRAMADRAMADUCK
DOWNLOAD HERE: 9 TRACKS, 48.2MB





(1) Now Generation, Black Eyed Peas
[[I want money
I want it want it want it
Fast internet
Stay connected in a jet
Wi-fi, podcast
Blasting out an SMS
Text me and I text you back
Check me on the iChat
I'm all about that h t t p
You're a PC I'm a Mac
I want it... ]]



A song about this generation's obsession with technology, by a popular hip-hop group is pretty much standard fare for Emo. It's all about the internet and technology that Emo is completely up-to-date on, and it's by a band he listens to. In conclusion: a perfect Emo song.




(2) L.E.S Artistes, Santogold
[[I can say I hope it will be worth what I give up
If I could stand up mean for all the things that I believe

What am I here for
I left my home to disappear is all
I'm here for myself
Not to know you
I don't need no one else]]



This song kind of reminds me of Emo's stubborn ass, "I'm a tough guy who can do everything myself" attitude; it isn't as rampant as it used to be, though. That's because of his grandfather; this song represents their relationship a bit too. Emo came to him to take money so he could live himself, and his grandfather ended up torturing and blinding him for it. This is a teen!Emo song.




(3) Do What You Do, MARZ
[[If you can't hear the voice,
Rock out to the beat
And if you get wild like we get wild,
Put your hands in the air and scream!
Now don't be stirred, let it go
Do it but you do it, gonna lose control
Get loose because I told you so
We gonna get this party rockin
Ready, set, go!]]



More music Emo totally digs. There's no direct reason for this song, other than I love to imagine Emo and his posse hitting up clubs with this song blasting. It's such a cocky, boss song and it really does represent Emo's attitude when he's being his cocky, arrogant self. Too bad he can't hit up clubs in Tranquility.




(4) LOL :-), Trey Songz
[[Shorty called my phone, I was busy (I was busy)
Cruisin in that Benz round the city (round the city)
Then I felt my phone buzz, I know that she like thugs,
I'm a bad boy like diddy (take that! ),
Then she sent the text, that read, baby I'm at home,
Then she sent another one that says she's all alone
So I text her a smiley face and said lets do the grown,
She said lol, boy you crazy, come on
Then she said actually, you aint gotta ask me
Sent that lil face with the tongue cuz I'm nasty
I'm on my way, girl I can't wait, twitter me a picture
Let me see that okay!]]



I can't even describe the absolute joy I experienced when I found this song. It's... I'm just going to let the lyrics speak for itself. Seriously, though. It's beautiful.




(5) Run This Town, Jay-Z
[[Feel it comin' in the air
And the screams from everywhere
I'm addicted to the care
It's a dangerous love affair
Can't be scared when it goes down
Got a problem, tell me now
Only thing that's on my mind
Is who's gonna run this town tonight?]]



I had to pick one of Emo's favorite girls to put on this FST, and Rihanna is amazing in this song. Anyway, this song is another one that represents how Emo rolls with his group; heavy-duty, straight-up fucking hardcore. At least, that's how they usually come off. Emo's big on appearances and being able to deal with shit on his own; this song is pretty representative of that.




(6) Devil in My Car, The B52's
[[He's pointing his pitchfork at me.
He's in the front seat of my car!
He's taking over!
Oo, he ripped my upholstry.
He's at the wheel,
HELP! The devil's in my car.
HELP! He's drivin' too far...]]



Emo picked the wrong team to back in the second plot of WtT; namely, he backed the side of the Devil and his grandfather, all because the sheriff of Tranquility wasn't willing to bail him out of jail and he felt slighted by her. He regrets it pretty soon afterward. This song is all about speeding out of control, and in Emo's case, the devil is literally at the wheel.




(7) Ballroom Blitz, Sweet
[[Oh, I see a man in the back as a matter of fact
His eyes were as red as the sun
And the girl in the corner that no one ignores
Cause she thinks she's the passionate one

Oh Yeah! It was like lightning
Everybody was frightening
And the music was soothing
And they all started grooving...]]



More of the devil influence on Emo. Plus, the attack on Mr. Articulate - basically, this is the kind of thing that happens when Emo gets into a fight. Everything goes to hell and it just turns into an all-out brawl.




(8) Evil, Elvis Presley
[[If you're looking for trouble
You came to the right place
If you're looking for trouble
Just look right in my face
I was born standing up
And talking back
My daddy was a green-eyed mountain jack
Because I'm evil, my middle name is misery
Well I'm evil, so don't you mess around with me.]]



Finally, a song that represents how Emo tries to portray himself. He's about as evil as Elvis could be, so it's a fitting song. Basically, Emo ended up as a villain because of his grandfather, so he tries to live up to that standard and puts up a "I'm a bad guy" cover to hide the fact that he's really just a confused teenager. He doesn't do it anymore, thank God, but it's still an image he tries to use from time to time.




(9) The Emoticon Don, Frivolous
[[instrumental]]


...Honestly, I just like the ambiance of this one. Especially the second part.